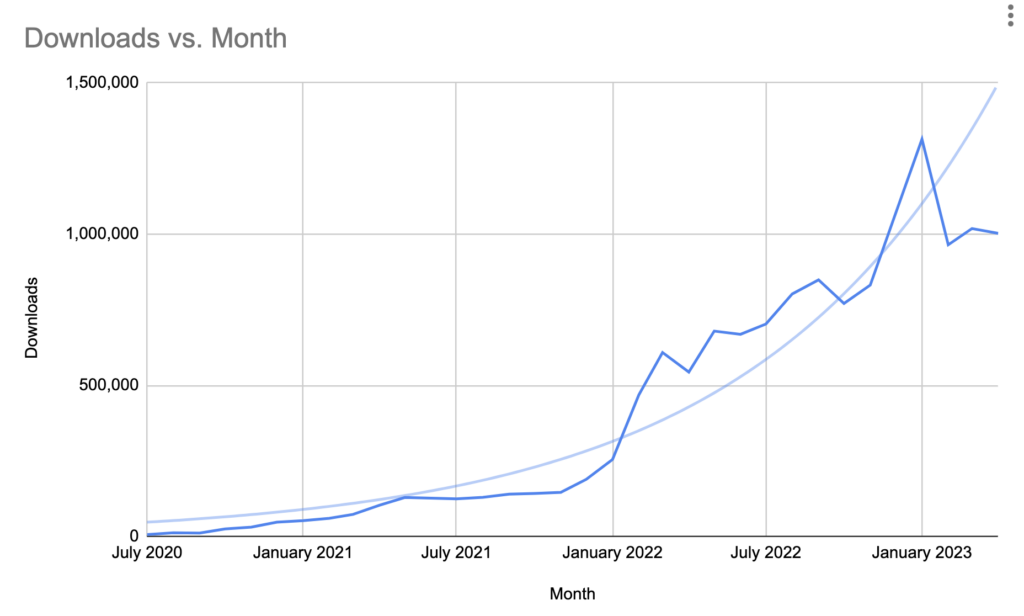 Total Downloads: 1,002,444
Month-to-Month Growth: -1.55%
Year-to-Year Growth: 84.24%
Average Daily Downloads: 33,414.8
Month-to-Month Daily Growth: 1.73%
---
As expected, April was steady in terms of growth. Technically, the monthly downloads dropped by 1.5%, but there was also one fewer day in April compared to March.
If you look at average daily downloads, it actually grew by 1.7%.
So, I'll call it a wash.
As I predicted last month, April was going to be about the same, and I predict the same in May. I don't expect to see a growth spurt until June when I already have some promotions lined up.
A few months ago, I mentioned that my focus wasn't on growth at the moment but waiting for the sales pipeline to fill before I focused on growth again.
It's a good problem to have.
The good news is that my inventory is pretty much 100% filled right now. I actually can't do promo swaps right now because I have no inventory to trade.
March and April have had record earnings, which is going to set me up for my next major marketing push in June.
The big news in April was more personal. I moved into a new apartment. A much larger place with a room I can devote as a studio.
As of the day I'm writing this, I'm going to be installing acoustical tiles in my studio.
This has been an across-the-board improvement in my work environment and quality of life. I have a great view of the Fox River, I can hear geese outside almost all the time, my windows are south facing giving me a ton of sunlight, and I have lots of fresh air.
In addition, I have a gigabit internet connection and just a much better work environment. This might not sound like it is podcasting-related, but I assure you, it is.
For much of May, I'm going to be preparing my June marketing push. Talking to other podcasters to line up feed drops and promotions.
I'm also ready to finally hire an assistant to help with much of busy work associated with show promotion.