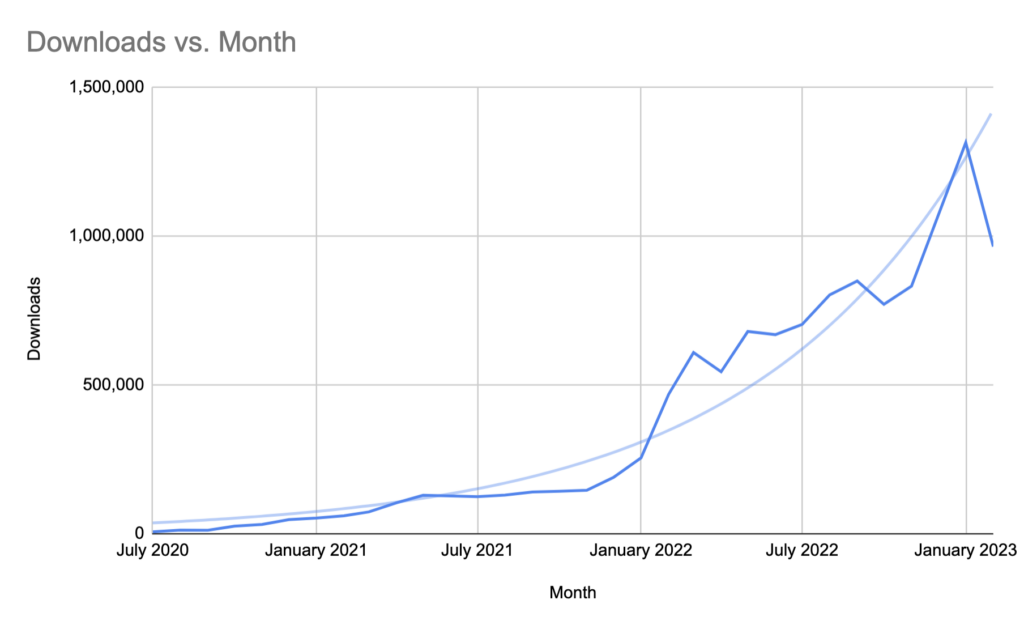 As expected, my total downloads for Everything Everywhere Daily in February were down.
Total Downloads: 964,503
Month-to-Month: -26.57%
Year-to-Year: 105.88%
There are two reasons for this decrease:

1) I had a big spike in downloads in late December and early January. It started to level off in late January, so I assumed that February was going to be soft, at least for the first week or two. It was.

2) February has three fewer days than January, which is about 10% fewer days.
Even though this is a pretty big drop, I'm not panicking for a few reasons.
If you averaged out the number of days in the month, the drop was only 15%.
Monthly numbers go up and down. Q1 2023 is still looking to be well above Q4 2022.
Downloads decreased, but my total audience didn't really go down. I have a very large back catalog of evergreen episodes. When I get a new listener, I often see a spike in downloads as they download older content. However, that will eventually level out to just one download a day.
I didn't run any promotions or ads in February.
Basically, February was almost the same as December, which was the first month where I hit one million downloads per month.
New Focus
I'm also not hyper-focused on growth at the moment. The vast majority of my ad inventory is currently unsold.
Doubling my downloads right now just means I'm increasing my unsold inventory.
I'm not going to turn down more listeners, but until I can get my sales pipeline filled, there isn't much point.
I've just joined a new podcast network (Glassbox Media), and they are working on filling the sales pipeline. I've had to deal with sales in the past, and I'm aware that it doesn't happen overnight.
The pipeline is starting to be filled, so again, I'm not panicking.
Once the sales pipeline looks strong, I'll go back into growth mode and probably will be investing even more into podcast promotion. I'm guessing I'll be back into growth mode within three months. When I do, I'll have more resources at my disposal.
March Plans
The big plan for March is to launch an ad-free paid subscription version of the podcast.
This will be more difficult than normal because I put baked-in ads in the episodes for the first 18 months. So I have hundreds of episodes I have to go back and fix.
It isn't particularly difficult to do, but it is just a lot of busy work. I figure I have 500 episodes I have to go back and fix.
As an incentive to get people to subscribe, I'm going to launch a new weekly show called Everything Everywhere Weekly (original, I know).
The format will be similar to PTI (Pardon the Interruption) on ESPN. It will be myself and a guest giving short takes on the week's episodes and a few shows from the back catalog.
If it proves popular, I might release it to the public with ads two weeks after the subscribers get access.
TLDR
I've been focused on growth since I launched the show. I'm certainly not abandoning growth, but I need to round out other aspects of the business.
My 2023 growth goals are still in place and I think they are achievable, but to hit those numbers I'll need more resources, which means sales.